This is a one-question quiz, in the form of a story problem. It is not a trick question; you may assume that the obvious meaning of a sentence is the intended meaning. The answer to the problem follows the question, but you should nevertheless try to answer honestly and without looking over your neighbor's shoulder.
There is an extra credit question. You may answer it if you like, but are not required to.
Ready? Let's begin.
Data Points
Suppose each of the following is true:
On Saturday, a cyclist (we'll call him "Fatty," for no particular reason) embarks on a bike ride. He begins at 6:30am, and ends his ride at 3:30pm.
Saturday is a sunny day.
Fatty does not wear any sunscreen whatsoever for the duration of this ride.
Fatty is a conscientious rider and always wears a helmet.
Fatty has recently reached the male pattern baldness threshold for which he has always told himself he would shave his head rather than do a combover, or get hairplugs, or get a wig, or do any other hijinks that are almost magically transparent.
Fatty, having reached aforementioned threshold, has honored his commitment to himself and has shaved his head.
On Monday, Fatty went on another ride, this time with Brad and Dug. This was another road ride.
The originally-planned duration of this ride was 1.5 hours.
Fatty does not apply sunscreen for any ride to last less than 2 hours.
Midway through the ride, Dug — who is shortly leaving on a bikeless holiday and is therefore looking to get in some extra miles — suggested extending the ride by approximately 1.5 hours.
Dug's proposal was not met with resistance. Dug's suggestions are rarely met with resistance, but that is not relevant to the problem at hand.
Fatty continues to be a concientious rider and continues to always wear a helmet.
For clarification purposes, you may assume "always wears a helmet" may be interpreted as "always wears a helmet while riding a bicycle." Fatty can quite often be seen without a helmet when he is not on a bicycle.
The Question
Provided each of the above statements is true, what does the top of Fatty's head look like?
The Answer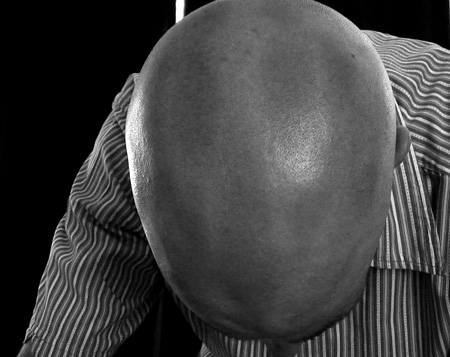 Extra Credit
Based on the pattern evident (and, believe me, it's even more evident in real life) on Fatty's noggin, what is the brand and model of helmet he wears?
PS: Come ride with me. Ever think to yourself, "I'll bet I could kick Fatty's corn on a bike?" Of course you have. This Saturday (June 16), 6:00am sharp, if you're in the area, why don't you come prove it. A few of us are meeting at the Kohler's in Highland, UT, and riding the Gauntlet, in reverse direction and with an extra helping of "ow." Meaning we'll be going up to the Alpine Loop summit on the American Fork side, down to Cascade Springs, up to the summit again, down the Provo Canyon side, up South Fork, back to the canyon, up Squaw Peak, back down to Provo Canyon, up the Sundance side of the Alpine Loop, and then down the American Fork side again, detouring to climb to the Timpooneke parking lot and the Granite Flats campground to show that we left no climb unclumb. How long will this take? I dunno. Seven hours? Ten? There will be places to fill your water bottle, and there's a possibility of a support vehicle, though I'm not certain on that point. Any questions? Bring them up in the forum.
PPS: Congrats to skinnycyclist(at)fatcyclist.com, the winner of the "choose your email address" contest. I love the symmetrical-yet-contradictory feel of this email address. Nice work, SkinnyCyclist! Your bag's on its way (no seriously, it really is).