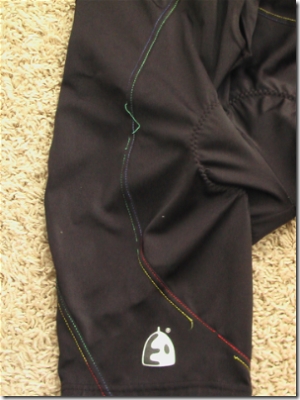 A few months ago, before we knew Susan's cancer was back, I got a bonus at work. So I bought some nice bib shorts.
I mean, really nice bib shorts.
This was a new experience for me. Until this point, I had never owned a pair of biking shorts that cost more than $60. And now I was buying three pair of shorts, each of which cost more than $100.
"I'll review them for the blog," was my rationale. And I will, soon. If I feel like it.
The thing is, one of the pair of shorts — Etxeondo Hilaires, the most expensive shorts I have ever bought – had a big problem. Or sort of a problem extending from another problem. First, the stitching was a crazy rainbow color, which was not at all evident in the photo when I ordered them from Colorado Cyclist. (Just in case anyone's about to give me grief about not buying from a local store, you should know that the local store to which I have massive loyalty — Racer's Cycle Service — doesn't really stock much in the way of bike clothes. I'd buy local if my local guy sold bike clothes, and so should you.)
I was not thrilled with the rainbow stitching, but I would have lived with it because the shorts were really comfortable and the chamois was awesome.
But that rainbow stitching, besides being kind of strange-looking, had another, much bigger problem: it didn't stretch. The rest of the fabric stretches as you put the shorts on; the rainbow thread popped.
Inside of a couple of months, the shorts looked — and felt — terrible.
So I called Colorado Cyclist, all geared up for a fight. They calmly told me to send the shorts back. I did. They called me on what must have been the same day they received the box, and said that they no longer stock this kind of bib short. I got all geared up for a fight. They said they'd be happy to replace them with an equivalent-priced short or refund my money.
Well, that buys some customer loyalty, doesn't it?
Counterpoint
Here's the other side of that customer service coin. I've been with the same Internet hosting provider for a long time. About seven years, I think. Up until I started doing this blog on my own domain, I used only a tiny fraction of the bandwidth allocated to me each month.
That's all changed, recently. More readers visit and comment than ever before and people post in the forums and participate in the contests. All of which I love. But it's been costing me more and more each month. I'm at the point now where I'd have to move up to the $100 / month service plan with my host.
So I sent them an email, telling them that I've been a loyal, on-time paying customer for seven years and now I'd like them to cut me a break.
They said, essentially, "Screw you." (Although they used many more sentences.) Which I read as an invitation to start shopping around.
It did not take very long for me to find Phillips Data. I called them and got a screamingly good price — one that lets me continue to post pictures and stuff without worrying about whether it's going to mean yet another bandwidth overage fee to me.
And — better yet — they said they'd like to do the "Ads for Schwag" program, where Friends of Fatty can get 25% off their already-great hosting costs. Very cool.
I'd like to think that any of you who've bought a jersey from me think of me as being more like Colorado Cyclist or Phillips Data than this unnamed Internet hosting company. I.e., hopefully nobody out there has paid for a jersey but hasn't received one, and I'm pretty sure I've been able to cover all the exchanges people have needed to make. But if I've goofed, let me know. (Nicely, if at all possible.) Here at Fat Cyclist we (by which I mean "I") are all about customer service with a smile. Often served with a side order of snark, but still.
Moving
So there's going to be a little hiccup in this site sometime today when I move everything from the old-and-busted hosting service to the new hotness. I'm turning off comments for a while as I move. And I'm going to put the Forum on pause while I move it over. Won't take long. The move's complete now, and everything's back. Took about twenty minutes. The site feels noticeably faster. These Phillips Data guys rock.
I'm also hoping that the crazy slowness a lot of you have experienced with comments posting will disappear. That would be nice. (I could tell a story here about how I complained to my old hosting service about how slow comment postings were happening now and how their "research" into the problem consisted of typing in my URL and bringing up the home page successfully, once, but I think I've already made my point.)
Happy Birthday to Me
I'm 41 today. Yay, I guess.
A old (OK, more middle-aged than actually old) friend of mine (we've known each other longer than we haven't) bought me a cool present: tickets to go to the Police concert tonight in Phoenix. I do believe this will be the first non-bike-related overnight recreational event I have signed up for in more than ten years. I'm not sure how I'll handle myself.  
But if I had to guess, I'd wager "dorkily" is not far off.