A Note from Fatty: Thanks to everyone who continues to leave some of the nicest, most supportive comments my wife and I could ever hope for. You really give us both a big lift.
Now, today's guest post comes to you from my good friend and longtime riding buddy Kenny, team captain of the Jack Mormon Militia.
Meet the Jack Mormon Militia
Fatty asked me to do a write up on the 24 hours of Vail Lake.  As I started writing this story, I realized it's hard to write a dramatic story when everything goes as planned. It's not like I was stuck out in the desert at night with no food, no water and no light.   We couldn't have asked for a better result, we had very few mechanicals and the whole team did super fast laps from start to finish.
My team, the Jack Mormon Militia, is a single speed mountain bike 24 hour race team, consisting of 4 riders: Josh Wolfe, Chucky Gibson, myself and our newest member, Jason Asay.  For those who are unfamiliar, a 24 hour mountain bike race consists of doing laps around a 10 to 15 mile course from noon one day to noon the next day. Teams can be solo riders, two person teams, four person teams, five person coed teams and single speed rigid teams. 
My team rides in the single rigid category.  The bikes can only have one gear and no suspension.  It's hard to explain why we prefer riding these kind of bikes, other than it's simple and it keeps the bikes light and fast.  For me biking is very spiritual and by choosing to ride a rigid single speed bike, I experience more of this sensation.  When we race in these events we like to compete more for the overall win than in our own category.  We're trying to show people that you don't need to spend 6 grand on a tricked-out fully suspended mountain bike to be fast or to have fun.
Road Trip
On the way down, we stopped in Vegas to break up the trip into two shorter stints in the cars.  Plus  it's always good to have an excuse to stop in Sin City.  We are the Jack Mormons after all. We figured the second day's drive would be about 3 hours; we'd pick up the motor home rental, set up camp, and pre ride the course. 
Here's a news flash: the traffic in southern California is a big peace of crap.  We had to bribe the rental guy to stay late and we missed pre-riding the course.
One thing that's a little tricky racing single speed bikes is gear choice.  Pick too easy a gear and you'll lose valuable time on the flats.  Pick too hard a gear and you'll blow up on the climbs.  We tried to calculate the distance of the course to the average speed we would need to hold to turn 50 minute laps and came up with about 52 gear inch ratio. 
We were wrong. 
Let's Go
We always insist that Josh take the first lap.  He's the youngest on the team and the only one that can stay in front on the run.  He did well, considering he stepped in a hole and twisted his ankle.  As he grabbed his bike off the stand he jumped on the bike putting his weight on the back of his saddle.  It must have been loose because the front of the saddle pointed straight up.  He got off his bike and smacked it precisely into place.  It must not have slowed him down, because he finished his first lap riding a wheelie, and in first place.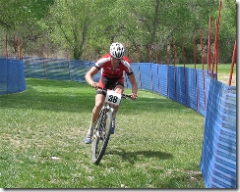 Chucky went out next.  He held the lead, but really blew himself up on the first climb.  While Chuck was out on his lap, I quickly changed my gearing to a much easier gear.  I had the advantage of talking to Josh, who was totally cooked having used the harder gear that we agreed on.   When Chucky rolled in and gave me the baton his face was the same color as his red Felt bikes jersey.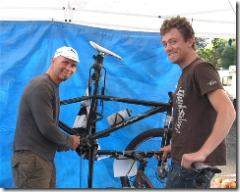 My Turn
One thing that makes our team fast is that we compete against each other. So, needless to say, I went out fast. 
I felt like if I raced smart, I might have a chance with the better gear selection.  The course started out flat for about a mile and then started to climb.  The climb was steep and long, but I came over the top and still felt strong.  The course started rolling with some short ups and some technical descents.  It made picking the right line difficult because you couldn't see over the top of the rollers.  I came up fast on junction and the yellow marking ribbon was blowing across the single track to the left.  I went right and started descending down a long dirt road. 
After a bit, I got a sick feeling. You know, the "I don't think we're in Kansas anymore" feeling. I started thinking that the yellow tape had dislodged from one side by the wind and had steered me in the wrong direction.  I stopped quick and looked back up about a quarter mile to the questionable turn.  Two other racers were coming down towards me.  I continued down, even faster to try and make up time.  Another half mile or so I came to a major fork in the road.  There were no markings in either direction.  I stopped and waited for the other cyclist to catch up to me.
I asked a racer (solo women's category) if we were off course. I thought she would know, since she was on her second lap.  She said she thought so.  I knew we weren't but continued down the road hoping to hook up with the trail down below.  The climb back up would take 15 minutes or more. 
It was a gamble.
Luckily, I won.
It wasn't more than a half mile down the road that the marked single track connected to the road I was descending on. The road turned up and climbed for another mile or so and finished with some kick-ass rollers.  My lap time was 51 minutes, a minute or so slower than Josh's and Chucky's times.   I was just glad to have finished my lap with out being passed while I was lost.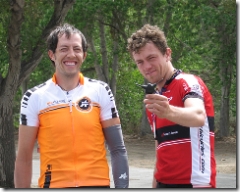 Jason then showed us all how it was done with a 47 minute lap, the fastest so far.  This course was a blast. The more you did it, the faster you could descend, with better lines and keeping your momentum into the short rolling hills.  Our second laps were all faster and we only slowed down five minutes or so during the night. 
The second place team was a really fast 5-person coed team with one girl.  They ripped it through the night and kept it pretty close when the sun came up. 
Time for Bed
For me, the hardest lap in a 24-Hour race is always the one between 2 and 4 o'clock in the morning.  It's hard to keep eating and drinking at that hour; my body just wants to shut down.  It's amazing how much better I feel when the sun comes up.  Botched explained it to me once.  He said it's because the cells in your body follow some kind of rhythmic clock. Or something like that. 
Anyway, during this time we were able to lap second place, but we kept going hard.  We wanted to get 7 laps each. 
We were very happy with our showing at this race.  The course was fun.  The weather was good.  We had a few mechanicals, but nothing that really slowed us down much.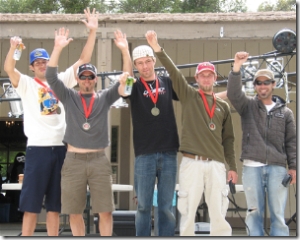 Prizes. Pfff.
We finished with 28 laps in 24 hours and 8 minutes.  I'm pretty sure that is the course record. 
The only thing that I'm a little put off by is the awards and I'm really curious what you all think.  There were some really cool things on the prize table; Night rider light systems, jerseys, camelbaks and other bike related swag. By the time Laird Knight, the race director, got to my team, though, the table was empty.  He praised us for doing a great race and said he had the best prize of all for us, which was a 4 person scuba trip in San Diego.  We all looked at each other with puzzled looks.  How would four guys that get together exclusively to ride bikes put together another trip to southern California to go scuba diving?  We told Laird that we didn't think we'd be able to use it and he said, "That's the beauty of it.  The trip is good for 1 year, so you could use it when you come back next year."
We told him we still wouldn't use it and gave it back, thinking that he would then give us something bike related, like a jersey or a bike pump or even socks for that matter. 
We were wrong. 
He graciously took it back and said he would put it to good use. Wouldn't it make more sense to give that prize to a local team, or was that his plan all along, to give it to a team that wouldn't use it? Let me know what you think.