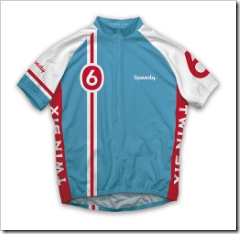 A Very Special Note from Fatty: Last week's contest to win the ridiculously cool Twin Six Speedy Jersey was huge. I'm really glad that I long ago learned my lesson and no longer force myself to actually choose an entry I like best, instead going for the extremely-clever selection technique of choosing a random comment, and if I like it, it's the winner.
This time, the first random comment I landed on was Diego Noronha's, who had the good sense to post the 63rd entry. Diego, email me with your address, and I'll get that jersey to you. Hey, send a photo of you sporting this jersey when you get it, wouldja?
Another Very Special Note from Fatty: Tomorrow I'll be launching the first-ever Fat Cyclist photo contest, provided I manage to finish figuring out this Gallery software. Kenny's Photo (hey, check out the ad in the sidebar) will be giving the winner $100 credit in prints at his site as well as a professionally enlarged and sprayed print of your winning photo — as in 16″ x 20″ or 16″ x 24″, whatever works best with the shot. How's that for cool? As usual, entering costs you nothing. Start looking for your best cycling-related photos now!
A Less-Special But Hopefully Somewhat Clarifying Note From Fatty for The Folks Surfing Here From the Bloggies Site: Here at Fat Cyclist, rather than asking my advertisers for money, I ask them to fork over some of their product or service. Then I give it away in a weekly (unless I get lazy) contest. This way my advertisers get a bunch o' bounce for their buck, my readers discover that my advertisers have really cool products, and I get…um…I get…uhhhh…IÂ get to not have to figure out where blog income fits on my income taxes. It's Win-win-win! Huzzah!
So just in case you haven't already made up your mind in voting in the Bloggies' Best-Kept Secret category, feel free to ask yourself, "Of all the blogs I read, which is most likely to actually give me something in return?
Not that I'm trying to bribe you or anything.
At least, not at the moment.
Although, now that I think about it….
The Best of the "An Open Letter To…" Series
Little by little, I'm trying to move some of the popular entries from my old MSN Spaces site over here. Today I'm going with my "Open Letter To…" stuff (by the way, check out To Whom It May Concern, another one of the Bloggies Best Kept Secret finalists. This blog does excellent open letters three times a week).