A Note From Fatty: Congratulations to SpikeBlue, the lucky winner — by random drawing from nearly 80 comments — of five boxes of Matisse & Jack's Bake-At-Home Energy Bars. SpikeBlue, email me your address and which combination of flavors you'd like, and I'll hook you up. 
And if I might say, while I chose SpikeBlue's comment randomly, I don't think he could have been any more right about what he chose as the best thing he's eaten: a ripe peach. When I read his comment, it occurred to me: the best food I've ever eaten while on a ride was also a peach. A group of us were riding the Kokopelli trail on an incredibly hot day. Kenny's parents-in-law met us at Dewey's Bridge — about 60 miles into the ride — with our lunch and a surprise: a large bowl of fresh peaches, peeled, sliced, and chilled. I really don't think I have ever eaten anything so delicious. I think everyone who was riding with me that day would agree.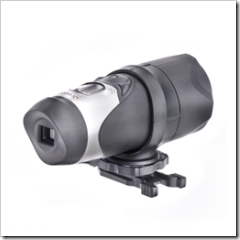 Show and Tell
Last Friday afternoon, I was doing a little Free-Associative Internet Research (some would call it aimless web surfing), when I stumbled across the Oregon Scientific ATC-2000: a self-contained, single-piece, waterproof camcorder that retails for $130.
I did a little looking on the web, and here's what I found out about it:
It's made with cyclists in mind. It comes with hardware for mounting on both your helmet and handlebars.
It's simple. It's powered by two AA batteries, records to SD cards (you can find 2Gb SD cards for around $35 now), and transfers via USB.
It holds a bunch. A 2Gb SD card will hold about two hours of video and sound.
Instant Obsession
For years, I've thought that it would be fun to have a helmet cam. I've never bought one, though. Too many cables, too expensive. Except this thing is cheap. And it doesn't have any cables at all.
So I started thinking about what it would be like to be able to show everyone on my blog what it looks like to ride up Tibble. And to ride down Mud Springs. And to ride down Joy. And to do my commute up and over Suncrest. And to ride the halfpipe in Moab. And to slalom down the Alpine Loop. And — and this is what put me over the top — to march up and ride down the Columbine Mine section of the Leadville 100.
I thought about how it would be cool to just be able to reach up and press a button when I want video of what I happen to be riding.
Then I looked a little more and found that you can buy this helmet cam for $99 at mountaingear.com.
And shipping is free.
So I ordered one.
Well, actually I ordered two, cuz it's been a long time since I've bought Rocky a Christmas present, and he's almost as much of a gadget geek as I am.
What I Don't Expect
I need to keep reminding myself that this thing costs only $99. So I don't expect to get great video quality. And I don't expect it to last forever.
I don't expect it to replace my regular camcorder — the one my wife is getting me for Christmas — for family video and for higher-quality ride videos. Something this cheap isn't going to create archival-quality video, right?
Here's the thing, though. The cheapness of this thing isn't just one of the reasons I bought it. It's the primary reason I think I'll be able to ride with it. That is, when I'm carrying a nice camera on a ride, I tend to be careful, because I don't want to crush the electronics. With a $100 helmet cam, though, I figure that it's no more expensive to replace than anything else I'm riding with.
Also, if it turns out that this was a terrible idea and is a miserable helmet camera, for $100 I can shrug it off and live with the mistake.
Although I really really really hope this is as cool in real life as I've made it out to be in my head.
Anyone Else?
So, have any of you already got one of these? Do you like it? Got any tips or ideas on how to mount it so it doesn't wobble (reviews I've read say that the included mounting hardware isn't very sturdy)? Got a suggestion for a helmet that will stay nice and snug when this is sitting on top? (Helmet manufacturers: I'm still waiting for a helmet with a universal clip built in on top, suitable for either a light or camera)
Does anyone else think the idea of a $100 helmet cam is as cool as I do?