The Leadville 100 race is all about tradition. One of the traditions every racer looks forward to is getting their sweatshirt at the awards ceremony, complete with their name and finishing time. After doing this race ten times, I of course had ten sweatshirts.
The thing is, though, I don't wear sweatshirts. I've got a subcutaneous layer of fat that keeps me warm; a sweatshirt would be overkill.
So I gave my Mom all my LT100 sweatshirts, and asked her to make me a quilt out of them.
And for Christmas, after roughly 19 gazillion hours of work, she gave me the completed quilt. Check it out (click on the image below if you want to see a larger version — an easy way to see what my times have been like through the years):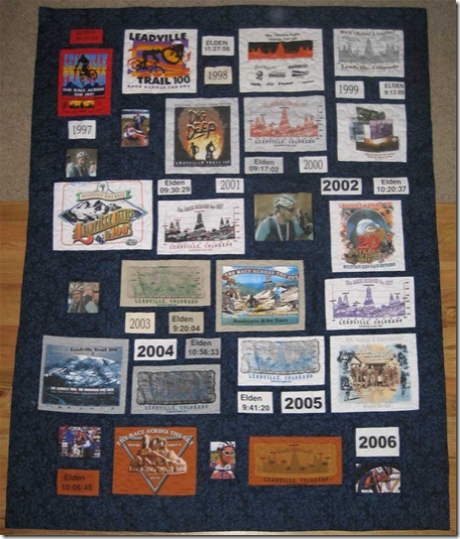 I tell you what: My Mom totally rules.
PS: True trivia fact: A photo of me, riding in my Dirt Rag jersey, appears in the 2002 edition of the poster and sweatshirt. Of all the race posters I own, this is the only one I have had framed.