A Note from Fatty: I'm really busy right now getting the infrastructure of my new site set up, not to mention trying to write something for the blog each day. Which means that I haven't had as much time as I'd like to participate in my own forum. So I asked BotchedExperiment to act as administrator/moderator of the forum, figuring that since he's just working full-time, finishing his doctorate, and taking care of an infant and 4-year-old kid, he has plenty of spare time. Botched said he'd help me out, and has already done some great things with the forum. Go over and see what he's done with the place. And be sure to pay Botched his due respect; he says he's itching to ban someone…just to prove he can.
Fatty is Selfish
In the interest of full disclosure, I would like to confess that I almost always act out of self-interest. When, for example, I set up the Ads-for-Schwag program, I wasn't simply thinking, "Gee, wouldn't it be nice if I could give companies I like a cheap way to advertise to their target audience, while simultaneously giving my readers something cool for free?" Instead, I was thinking, "Gee, wouldn't it be nice if I could convince both my readers and potential advertisers that it was to their benefit to advertise on my site, so that I could simultaneously get free stuff and make it look like my advertising space is in high demand?"
In other words, while I definitely intend to use the Ads-for-Schwag program to give companies I like a place to get the word out and to give readers cool stuff, I also plan to keep some of that cool stuff for myself.
I did not, however, expect to be so sorely tempted to keep the giveaway for myself on the first go-round.
What You Can Win
Normally, I'd talk about what the contest is before describing what you can win, but I dig this jersey so much, I want you to get a good look at it right away: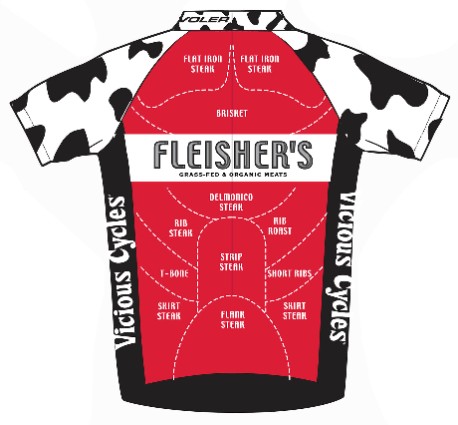 How cool are the Vicious Cycles guys for giving away this jersey? Very cool, that's how cool. My thinking on this kind of coolness goes as follows: If a company is going to be so cool as to give away this kind of jersey, they're cool enough that you might want to give their website a look when you're thinking about a new frame. Or when you're thinking about getting the most awesome paint job ever for your bike.
Here's the thing about this jersey, though: it's size medium. Which means that even at my lightest, it will not fit me. Which is good for you, because if it did fit me, I would be wearing it right now.
The Contest: What Do You Love?
A few days ago, I talked about something I really love: my Smartwool socks. I'm pretty confident that any cyclist would find a pair of Smartwool socks an excellent gift.
What I'd like to know is, what other bike-related stuff do you love? It's got to be something that can be given as a gift, because I'm going to compile all the good answers into my annual "Cyclists' Christmas Wish List," which you can then point your friends and family toward.
And how do you enter the contest? Just leave a comment with a suggestion for what should go in the list. I'll choose a winner—at random—from all the responses I consider good enough to go in the list.
Good luck. I'm sure you'll win.